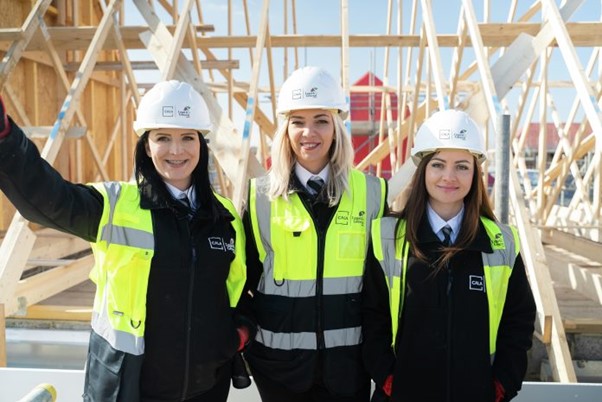 Keen to fly the flag for females in construction, PBC Today speaks with three female site managers about how they built a career in construction
Keen to encourage more women to consider a career in this rewarding industry, three female site managers from Cala Homes developments across Oxfordshire – Sandra Ives and Nina Muncescu, assistant site managers at Cala's Nobel Park development in Didcot, and Gabriela Gherghita, assistant site manager at Cala Kingsmere, Bicester – share how they built their careers in construction as well as their advice to others who wish to follow in their footsteps and improve diversity in the industry.
1. Tell us a little bit about your role(s) in the construction industry
Sandra: I am an assistant site manager and I am responsible for fully planning the day's activity for the construction team on site, prioritising jobs and making sure we meet deadlines and complete our work to the highest standards. I love working with the teams and engaging with them on the tasks at hand so this role really plays to my strengths.
Nina: My days are usually spent inducting subcontractors onto the site, meeting operatives and ordering materials, making sure everything is in order from a health and safety perspective and planning works to ensure the site meets its programmed dates. A lot of organisation and planning is involved and I need to make sure I am aware of what's going on across the site at all times to ensure it's running like a well-oiled machine.
Gabriela: Assistant site managers are given lots of responsibility, so we're involved in everything from super structures, roof inspections and pre plaster to handing over keys and customer care. I love that I am still learning and getting to push myself in my day-to-day role at Cala. I am also responsible for daily checks around the site, issuing permits and keeping on top of all things health and safety on site. It's great to be involved in every step of the building from start to finish there is something so fulfilling about seeing homes being brought to life.
2. Was a career in construction one that you had always envisioned yourself in?
Sandra: I have always enjoyed a hands-on role and construction has really allowed me to do that whilst giving me the opportunity to build a career. I am an ambitious person and working at Cala has really given me the confidence to push myself forward and follow my dreams and strive forward towards my goals.
Gabriela: I come from a long line of construction professionals. I grew up on sites, we would take holidays as part of my parents' work in construction, so it was only natural that I would enter the industry too.
I studied civil engineering for four years at Cluj Napoca University in Romania, despite some confusion on my first day when the professor thought I was in the wrong class. My degree was a real challenge but one that certainly paid off as I graduated and went straight into a role in an industry I'm really passionate about.
Nina: I'd always envisioned myself in a good job which would allow me to enjoy the lifestyle I wanted for myself and my family. Construction is a well-paid industry but more than that, I've become so passionate about what we do that now I can't imagine myself doing anything else.
Empowering Women in Construction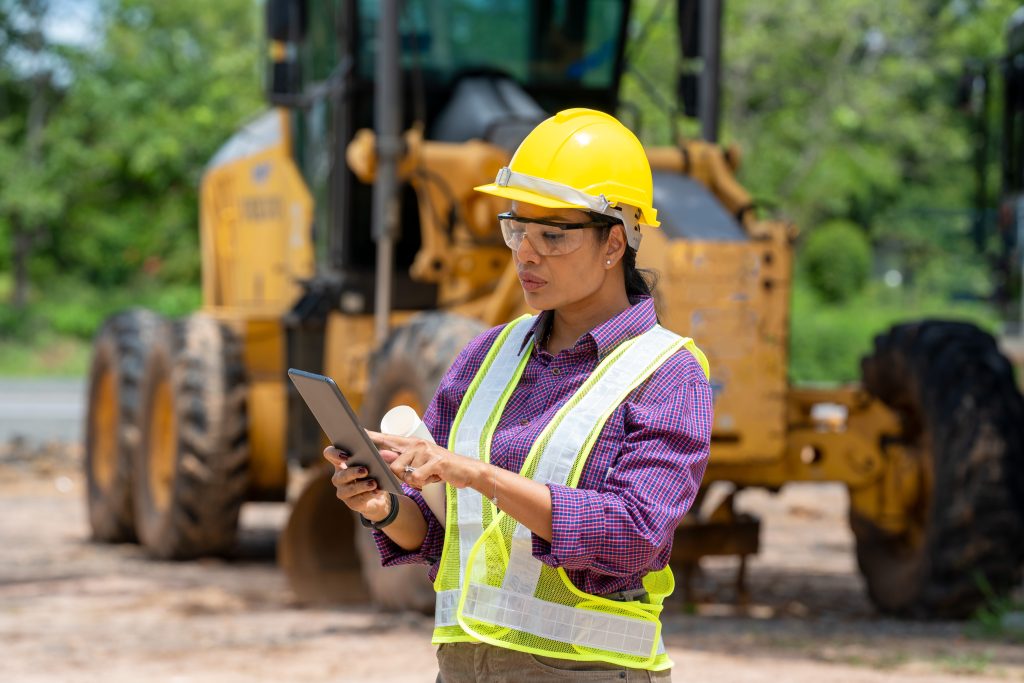 3. Have you ever experienced any pushbacks/challenges in your career(s)?
Sandra: Working on a construction site brings with it many challenges but that's the fun of it, it is our job to overcome them.
Nina: In the construction industry, we face challenges every day from bad weather to material shortages. Part of what makes our job so interesting is figuring out how to face these challenges and problem solving to make sure the site remains on track for completion within the given time frame and always to Cala's high standards.
Gabriela: As a woman, building a career in construction has come with its challenges, but I am pleased to say that attitudes are very different today. At Cala, women are empowered and there is zero-tolerance for disrespect. The industry and Cala still have a long way to go, but I believe it is on the right track and we are moving in the right direction when it comes to workplace dynamic and women in construction.
4. How can the industry encourage more female entrants?
Sandra: Cala is dedicated to improving diversity within construction and has pledged its commitment by becoming a Platinum Member of the Women into Construction (WIC) initiative. The independent, not-for-profit organisation aims to encourage more women into construction roles by providing recruitment, development and employability training for females across the country. Schemes such as this and support from construction companies will encourage more women into the industry.
Nina: You can't be what you can't see which is why it's so important for women working in the construction industry to share their experiences and present themselves as role models for those considering a career in construction. At Cala, we do outreach work with schools and colleges to show young people the range of roles within the industry and to break down bias around women in construction.
Gabriela: Things are beginning to move in the right direction but culture as a whole needs to change including the gender stereotypes around construction much earlier. Why do children's books only show male builders and truck drivers? It's not the case that only men work on site and for young girls, seeing female role models in construction from a young age will raise awareness and normalise women in construction.
Advice from women in construction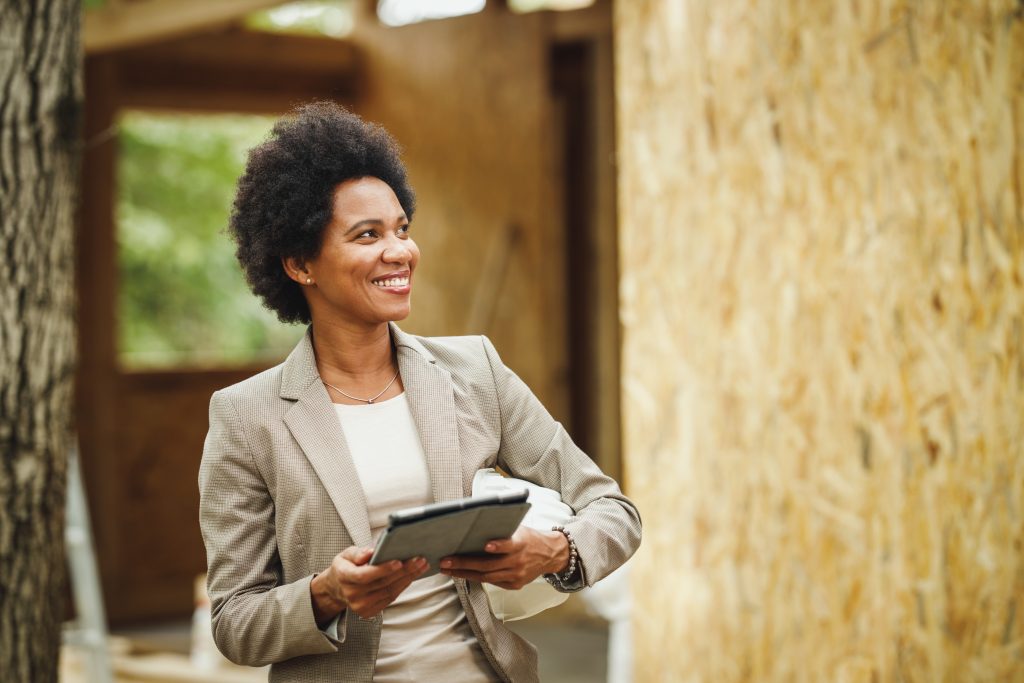 5. What would your words of advice be to young women wanting to pursue a career in construction?
Sandra: Put all your doubts to one side and go for it because you might be surprised! If I can do it, then you can. To achieve your dreams, you need to believe in yourself because it's a tough industry, no matter your gender. Do not ever feel like you are not good enough to be in construction because you are a woman, there is a team around you willing you to succeed and your skills will make a valuable contribution.
Nina: The construction industry is changing, and women are proving just how important they are in this field, so why not get on board and try something new in a sector which has so much to offer? Yes, it can be stressful sometimes, but construction is also hugely rewarding, it's taught me so much, helped me to grow up, make decisions and take responsibility for myself and others.
Gabriela: Don't be afraid to help change the stigma and be the change that you want to see.
To find out more head to, https://www.pbctoday.co.uk/news/hr-skills-news/building-a-career-in-construction-as-a-female-site-manager/127919/